Premium Platensis Pacifica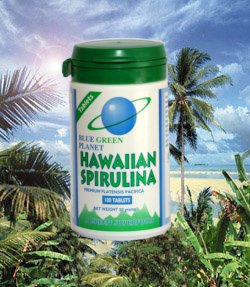 From the dawn of civilisation through the ancient Aztecs to the modern day, Spirulina has been a precious 'Wholefood'. Being 60% protein, weight for weight, it is a beneficial store of highly digestible, plant protein, with all the essential amino acids: it also contains iron, the anti-oxidants Beta Carotene and other Carotenoids, all in a natural form and is a rich source of Vitamin B12 and Biotin. Additionally, Spirulina is a valuable, 'Wholefood' source of GLA (Gamma Linolenic Acid) the same Omega 6 fatty acid as is found in mothers' milk. Spirulina helps protect with its antioxidants which guard the body's cells against the damaging effect of free radicals. Recent research has shown that beta carotene actually helps maintain a healthy immune system. Spirulina energises, nourishes and cleans. Doctors treating Chernobyl children with Spirulina, have had many encouraging results, including doctors in Minsk who discovered reduced urine radioactivity levels of 50% in children fed Spirulina for 20 days. Research has shown that another plant pigment, the blue phycocyanIn, may increase resistance to cancer and other degenerative diseases by stimulating the activity of lymphocyte blood cells . Another ingredient, the so-called anti-ageing, antioxidant enzyme, superoxide dismutase (SOD) is found in every cell of the body. Studies have shown that it can help repair damaged DNA, which may help to slow the ageing process.

These cold-compressed tablets are free from preservatives, gluten, added sugar and artificial colour and are certified free from pesticides and herbicides. The only added ingredients are totally inert and are necessary to produce a uniform, non-brittle tablet which will disintegrate to compulsory, BP (British Pharmacopoeia) standards.
Our Spirulina is "Ocean Chill Dried", arguably the best drying process available for this product and therefore the method of choice for Blue Green Planet.
As usual, we have scoured the world to find the best source of this potent, Green Superfood and we believe that we have found the best in our Hawaiian Spirulina.
---
This product is available in pots of 100 x 500 mg
tablets, which is approximately one month's supply
RRP £9.50 – Web Price Only £5.95
Order Now ! – Secure payments with Paypal
100 x 500mg tablets
Shipping and handling £3.50 per order.
Please note we only supply product to the UK and the Republic of Ireland. No EU orders can be processed.